Colloquium Series: Valerie Lambert (SCL)
When and Where
Friday, February 17, 2023

2:00 pm

to

4:00 pm
The Department of Anthropology, University of Toronto
19 Ursula Franklin Street
Description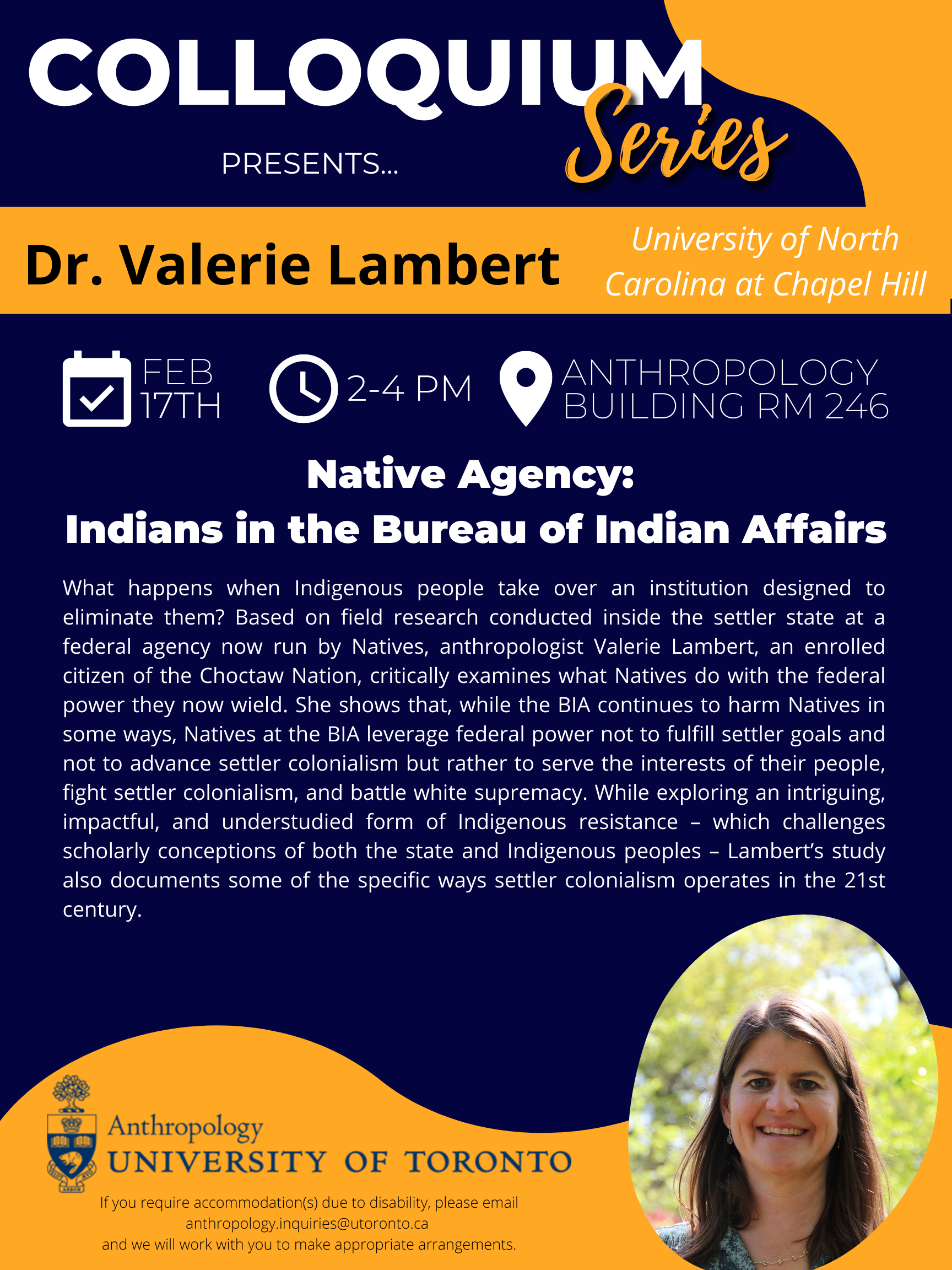 Join the Department of Anthropology on February 17th from 2:00PM-4:00PM as our 2022-2023 Colloquium Series continues with a talk from Dr. Valerie Lambert entitled "Native Agency: Indians in the Bureau of Indian Affairs."
Abstract: "What happens when Indigenous people take over an institution designed to eliminate them? Based on field research conducted inside the settler state at a federal agency now run by Natives, anthropologist Valerie Lambert, an enrolled citizen of the Choctaw Nation, critically examines what Natives do with the federal power they now wield. She shows that, while the BIA continues to harm Natives in some ways, Natives at the BIA leverage federal power not to fulfill settler goals and not to advance settler colonialism but rather to serve the interests of their people, fight settler colonialism, and battle white supremacy. While exploring an intriguing, impactful, and understudied form of Indigenous resistance – which challenges scholarly conceptions of both the state and Indigenous peoples – Lambert's study also documents some of the specific ways settler colonialism operates in the 21st century."
We hope you will join us for this exciting talk, which takes place in the Richard B Lee Boardroom, AP 246.
Register here to attend this colloquium via Zoom.
If you require accomodation due to disability, please email anthropology.inquiries@utoronto.ca, and we will work with you to make arrangements.
Contact Information
University of Toronto, Department of Anthropology
Map
19 Ursula Franklin Street
Categories