Colloquium - Genevieve Campbell: "Mitigating Threats From Industrial Development Projects on Great Apes"
When and Where
Friday, November 25, 2022

2:00 pm

to

4:00 pm
The Department of Anthropology, University of Toronto
19 Ursula Franklin Street
Description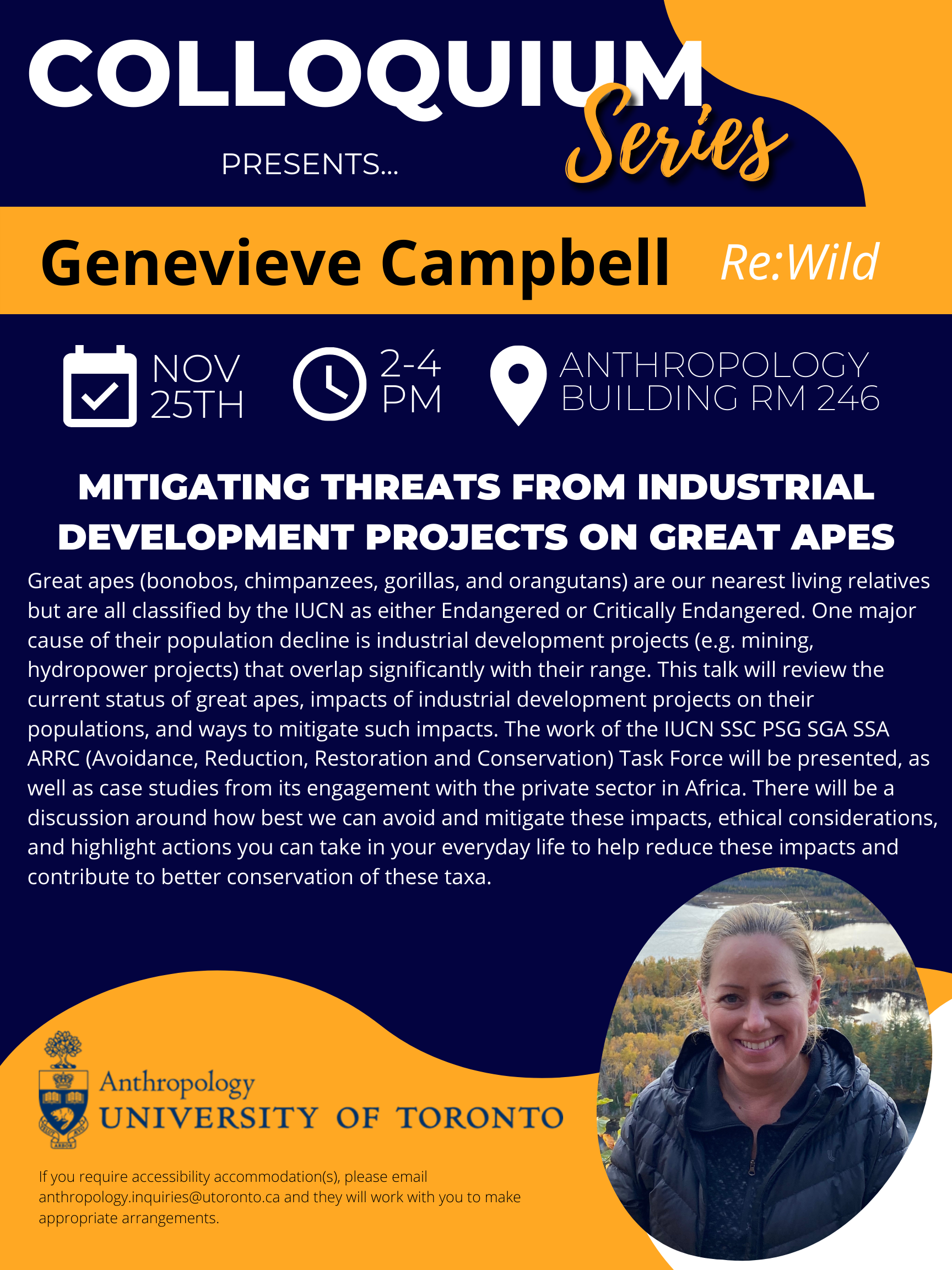 As a part of its 2022 Colloquium Series, The Department of Anthropology is excited to welcome Genevieve Campbell from Re:Wild who will give a talk entitled, "Mitigating Threats From Industrial Development Projects on Great Apes."
About her talk, Campbell writes, "Great apes (bonobos, chimpanzees, gorillas, and orangutans) are our nearest living relatives but are all classified by the IUCN as either Endangered or Critically Endangered. One major cause of their population decline is industrial development projects (e.g. mining, hydropower projects) that overlap significantly with their range. This talk will review the current status of great apes, impacts of industrial development projects on their populations, and ways to mitigate such impacts. The work of the IUCN SSC PSG SGA SSA ARRC (Avoidance, Reduction, Restoration and Conservation) Task Force will be presented, as well as case studies from its engagement with the private sector in Africa. There will be a discussion around how best we can avoid and mitigate these impacts, ethical considerations, and highlight actions you can take in your everyday life to help reduce these impacts and contribute to better conservation of these taxa."
We hope you will join us for Campbell's talk, which takes place on Friday November 25th from 2 - 4 PM in the Richard B Lee Boardroom (AP 246).
Unable to attend in person? Click here to register and attend this talk via Zoom.
Contact Information
University of Toronto, Department of Anthropology
Map
19 Ursula Franklin Street
Categories