(Header image: Students at an archaeological dig in Huaca, Colorado, with Professor Ed Swenson. Photo by Prof. Swenson.)
Summer 2021 Social Cultural Field School
Summer Abroad
Summer 2021 Archaeology Field Schools
ARH306Y1S Archaeological Field Methods
NOTE: The information and dates below are from Summer 2019. As soon as information becomes available, we will update this page with dates and information for the Summer 2021 session.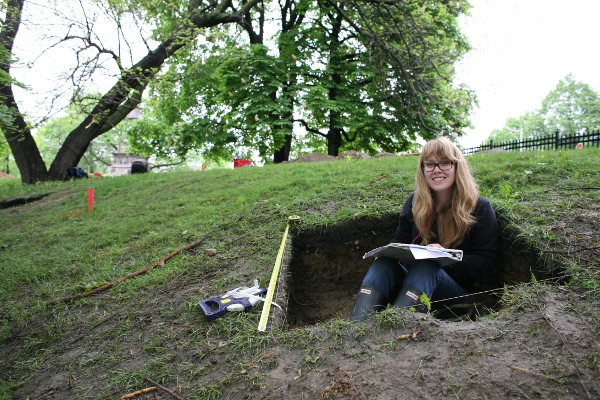 This course provides training in the methods used in archaeological survey, site mapping and laying out of excavations, use of total stations, theodolites, and GPS, excavation, stratigraphy, square mapping, and stratigraphic recording, along with a sampling of other skills and methods, such as digital field photography, conservation, augering, and remote sensing. The course is designed to be short and intensive, with approximately 15 full days devoted mainly to fieldwork, and a short preparatory period in the first week. Before fieldwork begins, there will be an open-book online test to ensure that students have covered the basics that they will need to prepare themselves for the remainder of the course. The course will include some in-class lectures to go over information students will need to know to do the fieldwork and to cover topics not emphasized in the text or to add Canadian content. The bulk of the course, however, will be devoted to a variety of field exercises. It is anticipated that this will include survey, topographic mapping, augering, test-pitting, and excavation, screening, drawing, field conservation, field sampling, and photography. The goal is to teach fieldwork skills and knowledge that would be useful on prehistoric and historic sites, and in both academic fieldwork and the heritage industry, and not primarily to recover "real" archaeological data about these sites.
Course Fee, Equipment & Supplies: In addition to regular tuition, there will be a small fee ($25) to cover the cost of supplies you will use. This fee will be charged through ROSI in addition to the tuition.
Preliminary Schedule Summer 2019
June 1-2 On-line Quiz – due June 2, midnight
June 3 – am Classroom Lecture 1 Introduction, Class mechanics, Health and Safety, Mapping

Instruction on use of Levels and Stadia for Mapping (Garden west of Class)
pm Begin mapping  – LRMS (campus)

June 4, 5, 6, – Mapping at LRMS
June 7 – am Complete Mapping
June 10 – No class (work on maps)
June 11 – am Classroom Lecture 2 Laying in the Grid, excavation and record keeping Maps Due

pm Lay in Grid, begin excavation, shovel tests – Location TBA

June 12, 13, 14, 17, 18, 19, 20– Excavation
June 21 – am Classroom Lecture 3 Stratigraphic Profile and Harris Matrix

pm Complete excavation,  profiles

June 24 – hand in scan of field notebooks, backfill, submit Harris Matrix and Profile
June 25, 26, 27 – extra days for rain, artifact study, profiles, etc
June 28 – Final on-line quiz opens, due June 30 at noon
July 6 – Final report due as a scanned document
Summer 2021 Evolutionary Anthropology Field School
There are currently no evolutionary anthropology field schools planned for Summer 2021.