(Header image: a female Rwenzori colobus monkey holding her new baby at Nabugabo, Uganda, photo courtesy of Professor Julie Teichroeb)
There are numerous appointed Graduate faculty located at all three University of Toronto campuses. There are also Professors Emeriti, Status-Only Appointments, Visiting Scholars and Cross-Appointments, in addition to St. George Undergraduate Instructors. For more information on our faculty, please see the People section.
The Department's faculty maintain vibrant research programs that involve a variety of investigative methods and techniques and take them to diverse parts of the globe. The Department offers instruction and research training in the fields of archaeology, evolutionary anthropology, social-cultural and linguistic anthropology, and medical anthropology. Environmental perspectives and culture and construction of meaning in historical perspective are general areas of emphasis. MA, MSc, and PhD degrees are offered in all fields. Collaborative Programs also form part of the curriculum.
The geographic areas of strength in archaeology include Canada (Ontario, the Arctic, and British Columbia), Asia, Africa, Latin America, and France. Topical areas include human ecology, ethnoarchaeology, lithic analysis, archaeometry, archaeozoology, and palaeoethnobotany.
Area strengths in social-cultural and linguistic anthropology include sub-Arctic Canada, the Caribbean, Latin America, North America, Europe, Asia, Australia and New Guinea, Africa, and the Middle East.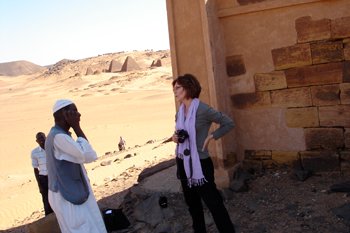 Evolutionary anthropology's strengths in the department include palaeoanthropology and human evolution, primatology, forensic anthropology, molecular anthropology, human skeletal biology, historical demography, and health.
Strengths in Medical Anthropology include bio-social factors influencing human disease and nutrition, gender and sexuality, and HIV/AIDS.
Several faculty in the Graduate Department of Anthropology are cross-appointed to other units and programs, among them African Studies, the Asian Institute, Latin American Studies, Centre for Diaspora and Transnational Studies, the School for the Environment, Linguistics, Religion, Centre for the Study of Korea, Centre for South Asian Studies, and the Women and Gender Studies Institute (WGSI). We are frequent participants, supporters, and organizers of colloquia at the Munk School of Global Affairs, probably the most significant hub for bringing anthropologists together with political scientists, geographers, historians and other disciplines on the UofT campus. In recent years, faculty have also been involved with the following cross-disciplinary units, programs, and working groups:
A highly significant external link is to the newly created Archaeology Centre, which is housed in the Anthropology Building. The Centre was conceived as a means to bring together research archaeologists employed in a variety of academic departments across the three campuses and at the Royal Ontario Museum. Members include faculty from Anthropology at UTSG, UTM, and UTSC, Near and Middle Eastern Civilizations, Art, Geology, Geography, and Classics as well as ROM curators. The Archaeology Centre hosts several working groups and regular talks. Monthly gatherings of the Ontario Archaeological Society are sponsored by the Archaeology Centre and hosted by the Department of Anthropology.
Importantly too, we are linked to the Ethnography Lab and the Centre for Ethnography in the Department of Social Science at UTSC. The Centre is run by UTSC anthropologists and hosts an annual seminar series. The Centre also provides funding for one or two annual writing fellowships for senior doctoral students completing their dissertations.