Graduate Workshop on Public Writing and Magazine Publishing
When and Where
Friday, February 10, 2023

12:00 pm

to

2:00 pm
Description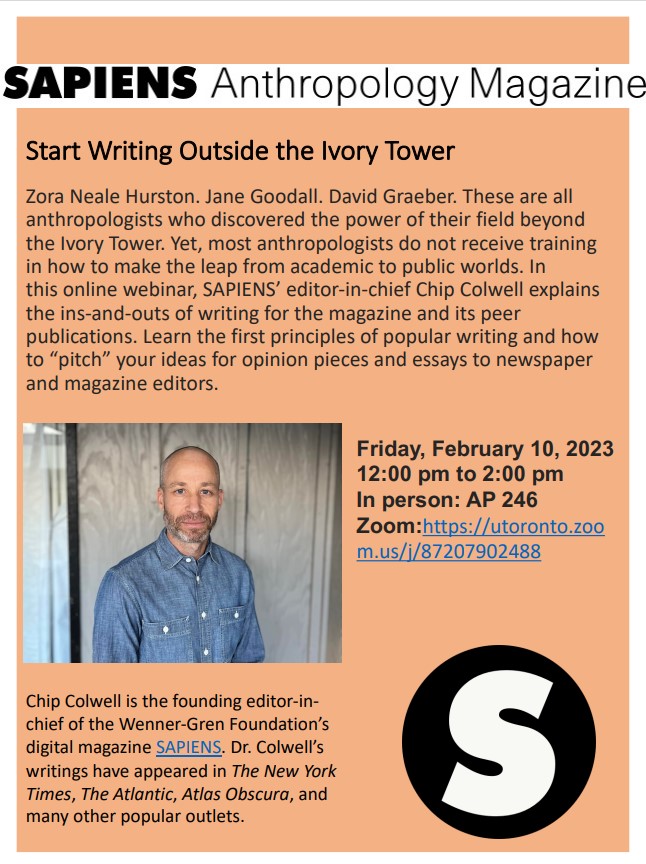 In this 2-hour workshop for graduate students, an editor of SAPIENS will outline basic principles of public writing and how to publish in magazines. The Department of Anthropology hopes all graduate students will join us for this exciting event.
"Zora Neale Hurston. Jane Goodall. David Graeber. These are all anthropologists who discovered the power of their field beyond the Ivory Tower. Yet, most anthropologists do not receive training in how to make the leap from academic to public worlds. In this online webinar, SAPIENS' editor-in-chief Chip Colwell explains the ins-and-outs of writing for the magazine and its peer publications. Learn the first principles of popular writing and how to "pitch" your ideas for opinion pieces and essays to newspaper and magazine editors."
Click here to attend the workshop via Zoom.
- Organized by SAPIENS and coordinated by Dr Lindsay Montgomery
Map
19 Ursula Franklin St.
Categories
Audiences